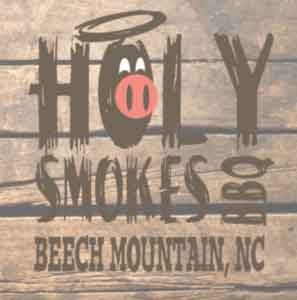 3363 Beech Mountain Pkwy, Beech Mountain, NC 28604
3363 Beech Mountain Parkway
Beech Mountain
North Carolina
28604
US
Delicious Barbecue You Will Want Again & Again!
At Holy Smokes Barbecue, we know how to do bbq right! Come in & try our signature Apple Butter BBQ sauce on a pulled pork sandwich. Or try a 1/2 pound of our smoked sausage plate. Either way, you can't go wrong!
For you all who have come to Beech Mountain, North Carolina looking to walk on the wild side, you have to try our BBQ Wolfdog which is a hotdog that comes with pulled pork bbq & cheese!
Don't forget the kids! We offer kids meals that include a main dish (hot dog, chicken tenders, pulled pork sandwich), a side, & a drink.