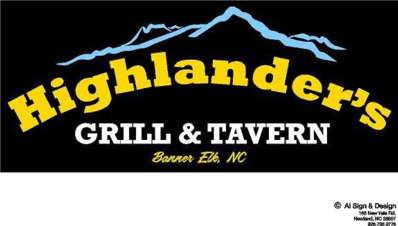 4527 Tynecastle Hwy, Seven Devils, NC 28604
4527 Tynecastle Highway
Seven Devils
North Carolina
28604
US
Our Chef and Staff
With years of experience cooking in the finest restaurants, our chef is excited to present our vision to you and all our guests. Our caring and committed staff will ensure you have a fantastic experience with us.
Special Events
Our restaurant is available for private events: weddings, business lunches, dinners, cocktail receptions, and more. We would love to discuss how to be a part of your next event.
Well Known Venue (Nick's) Becomes Highlander's
highlander noun
Definition of highlander: an inhabitant of a highland.
For over three decades this establishment at the cross roads of state routes 105 & 184 has welcomed locals, visitors, newcomers, and students alike…and all have been made to feel at home. Through over 120 passing seasons this gathering place has become as integral to the landscape as Grandfather Mountain itself.
We  are proud to present a modern re-imaging of this "High Country" tradition: "Highlander's Grill & Tavern!" Whether you hail from the coast, the mountains, the north, the south, the east or the west, no matter who you are or where you are from…. When You Are Here You Are A Highlander!